How Instagram, Influencers, and Engagement Drove Programming at the 22nd Annual South Beach Wine & Food Festival
The famous food and wine fête made way for FoodieCon, plus a fully loaded gallery with all the food, beverage, and branding highlights.
MIAMI/SOUTH FLA.—In its 22nd year, the annual Food Network & Cooking Channel South Beach Wine & Food Festival (SOBEWFF) presented by Capital One brought more than 70,000 attendees to 110 events with 450-plus participants from Feb. 23-26. While programming continues to progress year after year, its mission remains the same: fundraising for the FIU Chaplin School of Hospitality & Tourism Management—in fact, 97% of events sold out this year to raise more than $34 million to date.
"The entire food world is down here for the festival, whether Michelin star chefs or TV personalities or home cooks or influencers—this is like the Super Bowl to chefs, and if you're a brand with a new product, it's the right place to be if you want to rub shoulders with the industry," shared festival director Lee Schrager.
And no matter who you were or who you represented, the social media thematic was more present than ever. Sure, the festival itself has utilized handles and hashtags on official signage for years, but chefs, vendors, partners, and brands took full advantage of promoting their growth and boosting their reach on-site while starting and joining various social conversations throughout the four-day fest.
Veuve du Vernay at the Grand Tasting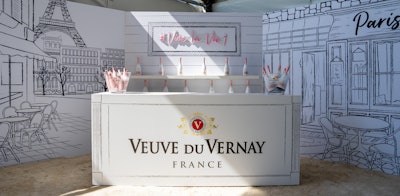 Miami-based brand experience agency Rose Gold Collective built out the Veuve du Vernay corner booth at the Grand Tasting. The design represented the Parisian skyline with an artist's line art approach, and included pops of hot-pink 3D props in a nod to sparkling rosé.
Photo: Courtesy of Rose Gold Collective
Learn more about the brand HERE.
Read the full article HERE.